Indian Constitution Day – 26 November 2021
Constitution Day also known as 'Samvidhan Divas', is celebrated in our country on 26th November every year to commemorate the adoption of the Constitution of India. On 26th November 1949, the Constituent Assembly of India adopted the Constitution of India, which came into effect from 26th January 1950.
As part of the 71st Constitution Day celebrations, a live telecast was held in the parliament, where  President Ram Nath Kovind led the celebration with a Preamble reading in the Central Hall of Parliament. Prime Minister Narendra Modi addressed a distinguished gathering.
ABIE made arrangements in the ICT room for all the teachers and students of B.Ed. and D.El.Ed. for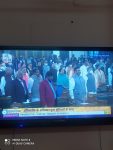 this Live Telecast.